QRU Ticketing   is a promotional website/ electronic ticketing package for the Performing Artist and venues like Music Bars and Theaters.
Main Features:
1. Shows - Easy to schedule the manager just clicks on a date in the calendar and are prompted for the start and end time/date. Venue, promo image, contact person, number, and some desription are prompted.  The tickets are configurable and can be 1 of diffrent types (E.G. in a theater, we can charge for General Admission, balcony and loge tickets - same can be done here)  - An alternative would be to have diffrent ticket types per set. The package comes with an app to validate the tickets on site.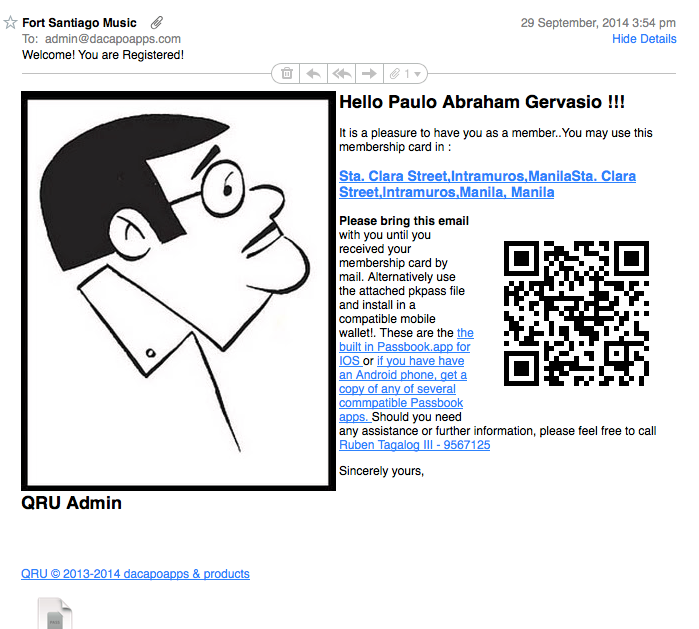 A working option would be to have the ticket buyers registered as users and grant ticket holders exclusive access to view and post pictures, videos, and download files or listen to music in the show page.
2. Membership / Loyalty Program -  Loyalty program - a discount scheme  to allow the owner to collect fees in exchange for fixed or percentage discounts,  An exclusive members only page allow the manager or artist to post photo  albums, videos, audio files, for downloads to members. Integration with Facebook groups is possible.
3. Store - allows online selling of non ticket items like T Shirts, pre ordered food, etc. 
Concept:
Our concept is to provide a dynamic website where the Artist can easily publish( to the site,  Twitter and Facebook) his scheduled events to promote them . Furthermore Ticketing registration allow registered Fans or Patrons (on a per event basis) to interact directly with the artist including sharing their actual experiences during the event in form of pictures and videos.  These events can either be performances or simply public appearances.  The artist can also show their gratitude by publishing elctronic goodies , videos, or  mp3s for the exclusive download of the paid registrants  (on a per event basis). 
Why is this important?  The Artist has a million things to do to perfect his craft, promotions is actually a full time job. Particularly for the struggling artist, the site allows the artist to do substantial online promotion with very little cost. It takes a few minutes to click on a date in the calendar, fill up a form, publish an event and start selling tickets (which goes directly to the Artist paypal account).
To add to this are the inclusion of a Loyalty program or Fan Club membership and an online store.
Packages
Artist Web Site (Sample site) Features:
Event booking and ticketing  - This is a 3 minute DIY step to use the Event calendar - click on the date you want to book - fill up the form and publish.  Fans or patrons can then register for the events they wish to attend purchase a tcicket for. Prepare the following:


Banner - 950x320 image If you wish to include the event in the Front Page Banners  to promote the event/ Otherwise just upload a 300x300 photo

Writeup - To explain the event

Venue / location - Please be precise and ensure that the Google maps that are generated will actually pinpoint your location - The site (through google maps) can provide friving directions to the event.

Date or dates  (Note tickets have expiration dates and  is normally valid for a single date only, For events with multiple dates you will need to preselect if the tickets are for a single date, or valid for the entire set of dates)

Organizer / Contact Person

Organizer / Contact Number

Organizer  Email

Note: Once events are booked a seperate group page with its own exclusive security allows you to interact exclusively with the patrons of that particular show - you should be free to post messages, downloadable images, videos , mp3s exclusively for them.  

Loyalty Program / Fan Club Membership - This will also use electronic tickets, Wish list -  eventually we will offer to print a PVC card of your design and mail them to yourt fans as an option / or produce PDF files of the membership so you can print yourself.  (We will set this up for you when we setup the site!) Please prepare :


Logo 90x90 for the Loyalty Program (Can be the logo of the website)

Write up - A short desciption of the program and benefits

Expiry Date




Fixed (one) expiry date for the entire  programs,

lifetime (No Expiry)

1 year after subscription

Other schemes

​Contact Person

Contact Number (Phone)

Contact Email 

Note - Successful loyalty programs are tied up with discounts on business networksor / and co brands with other existing discount clubs. If your Fan Club or Loyalty program has an existing alliance we will gladly comply wit their requirements to ensure that the cards you issue are recognized by the POS of the existing clubs that have agreed to honor your cards. If you have none we will gladly share any ionformation we have to help in your endeavor.

Members have an exclusive Membership page not accessible to non Members.

Online Store - Sell anything T shirts, cups , or stick with online purchases. If you sell tshirts mugs - it needs to be shipped - we can connect you to Fedex or UPS or just charge a flat rate.


Coming (a year or 2 from now if there is a demand) - a barcoded inventory and warehouse picking app to prepare orders.

Donations - Conduct Fund raising and Donations online for any worthy cause.
Front Page Banners (Promos) - These are the slideshow slides in the front page of your site - Banners are actually links to other pages/ websites. Use the banner to highlight upcoming events - EP releases, your mebership program - Cross promote other sites etc.   As owner of the site you can add, publish or unpublish a banner it requires:


A banner image - 950(w)x320(l)

A small writeup

A link

Note: The slideshow is arbitrarily limited to 5 banners - we can increase this limit if you wish, but setting it to a high number will affect the loading and performance of the web site. 

Apps (Under Construction - Available in the Apple App Store for iPhone/ iPads)




Gate App (QRU Tickets Gate)

Audience App (QRU Tickets Audience) (information about registered audience).

Reports : (Undes constructions)
Music Bar website (sample site): (Under Construction)
Event Booking

Loyalty Program

Online  Store

Donations

Front Page Banners

 Reserved Seating / Table Reservation - Under contruction

Apps (Under Construction - Available in the Apple App Store for iPhone/ iPads)




Gate App (QRU Tickets Gate)

Audience App (QRU Tickets Audience) (Performing Artist may use the app for a more engaging performance). 

Reports (under construction)
Miscellaneous Information
Payments:   We are initially setting up paypal standard payments. The payments go directly to your account .  I am also evaluating Visa/MC payment gateways that are available and will publish them soon as an additional option.  
Reports:  


 Ticket Sales

Standard Reports for the Store

 Google Analytics 

Security - 2 level security - 1 for the site 1 for individual events / loyalty program
Banners and Front Page - The Banners and Front page need to be managed,  Events by default are published and promoted to the front page.  When the event is done, it would be wise to take it out from the front page by unticking the Promote to Front Page check box. Unpublishing a banner should be enough to take it off the slideshow.
Future:


Tickettron integration

Large Volume ticketing
Subscription /Basic Setup Requirements
To construct the basic page : The following need to be submitted by email (a Submission panel will be constructed later on to facilitate submission). 
Headline Banner  - 950x320 image (this goes to dacapoapps.com so we can promote your site from our page)
site domain name:   - The Domain name can comprise of any letter or number and a dash (-)  Tip: Keep it short and memorable.
Logo - 90x90 image
icon  -     we will construct this from the logo or provide your own ico file
Optional Prefix - Internal (4 characters XX99)  - this will be attached to your logos, folders, and files to allow easy search within the shared server. If your prefix is used by another client we will attach  or increment the number  _ the prefix will also be used in the ticket serial numbers.
Writeup - 


     Short summary - This will be included in our main page to describe your site
    About us page - Long writeup  + some photos
   Optional - Other pages including photo gallery

Twitter/FB Site Account (Suggest you open up another account for your public persona/ music bar)  The site will publish using the accounts you submit.
Location Address - to generate map
PayPal Merchant Account - we can put this in for you or you give you instructions to put it in yourself or change them if you wish (1 account per site)
Event/Site Security -


Do you allow Registered users to Post Articles, comments, pictures and videos on the event of loyalty program page they are subscribed to? 


Yes
No
With prior approval from me or my manager

Email policies


Should you be alerted on any changes to the site (example when registered user makes a comment).

Management email - email address where emails from the users of the site will be sent.

Tickets: 

​Color schemes please submit 2 color schemes - 1 for events 1 for the loyalty program

Use of Photo ID on the tickets (Yes or No)